Day 28: Donner Pass Railfanning
Well the forecast wasn't good, and I80 was closed to trucks at Applegate and then shortly after to cars at Auburn. So imagine my surprise when I awoke to find beautiful clear skies and the pass wide open! Jumped in the car and set course for Crystal Lake Rd. GPS wanted to take me on a huge detour to avoid a 4 minute traffic delay on the I80, but I knew better and shaved 30+ minutes off its time. Modern technology huh.
Drive up was fairly uninteresting until I hit the snow line, and then wow!!!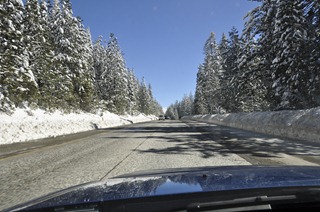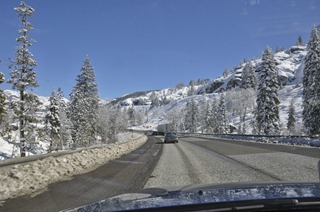 I80. Note lack of road markings. Can make things a bit interesting. Note railway formation at right in second photo. Look very carefully and you can see a snow shed just above the cars.
Arrived at Crystal Lake Road, or rather, the spot where it would be were there not 6+ feet of snow on top of it! Parked the car and started getting the snow shoes and my backpack ready. Another guy was just setting off on skis when I arrived, so I followed his tracks since he seemed to know where he was going. Got confused and took a detour at one point but it ended up back on his tracks before long. Was very tiring work — the combination of a foot of fresh soft snow, snow shoes, the grade and the altitude all working against me.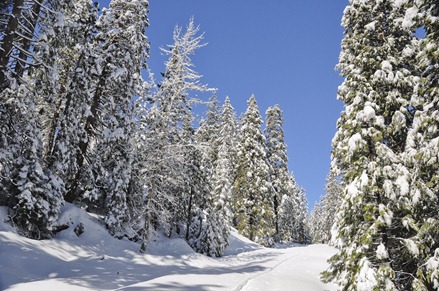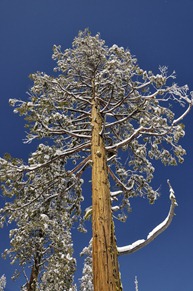 And some picture-postcard scenery along the way.
After a few rest stops I was surprised to stumble upon the railway; I'd imagined it was on the other side of the hill for some reason. I started hiking along beside the track and before long a double stacker came past: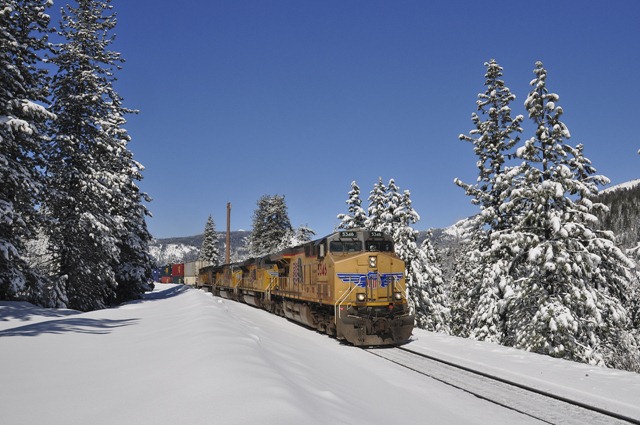 Four locos on the front, and a single SD70ACe on the rear. Impressive noise as he thundered past, the grades here are pretty formidable.
Hiked on, was still following the other guy's tracks and I ended up above the railway, which wasn't what I wanted, so worked my way back down again. The fresh snow was very obvious, and looked just amazing.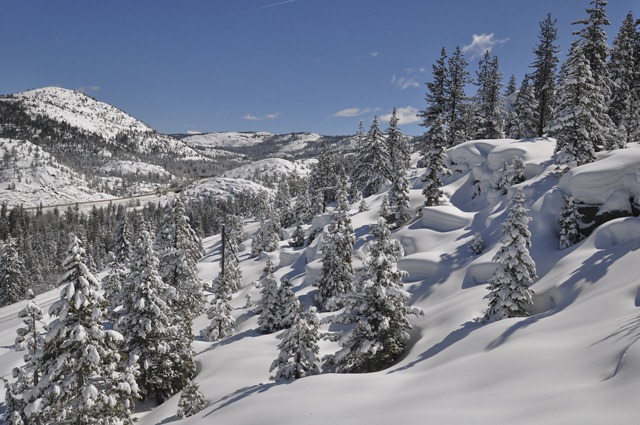 Shortly after I got back to track-level I saw a headlight and very shortly after the California Zephyr came past.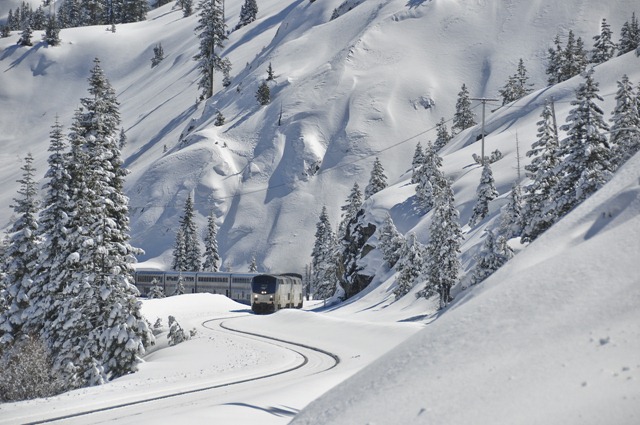 Some weird sounding birds were circling around me…
I hiked on and left the birds behind. I'd heard there was a snow shed up ahead, so hiked around the corner and found that, and a nice spot to sit and wait.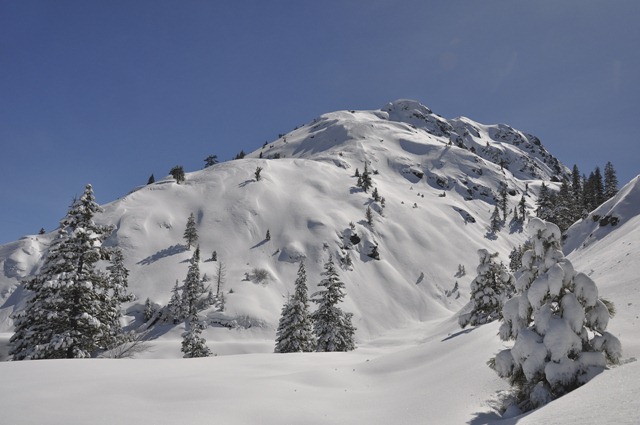 Not a bad view! Nearly two hours after the last train the other Amtrak Cal Zephyr came past…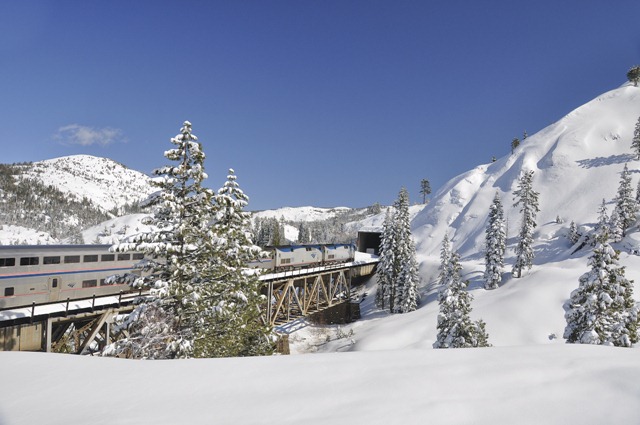 By now it the sun was getting lower in the sky and my spot wasn't quite so warm, so I decided to return and head off to photo spot #2. As I hiked along I heard a train approaching and just had enough time to catch the flanger coming past. Got a view nice shave-and-a-haircut on the horn too, obviously they approved of my dedication!
Returned to the car just in time to see a snow eater in action: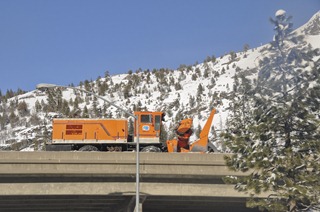 This thing has a huge screw-like blade that eats up the snow and spits it high out a chute to the side; a snow blower basically.
Jumped in the car and headed off for Emigrant Gap. Car was a being very sluggish and I had to get up to freeway speed by the end of the on ramp, so I put my foot down but there was no change in acceleration. Kept putting it further and further down but still the same sluggish response. Finally it decided to change down a gear and my word it bucked and bunny-hopped SO badly it triggered the door-open warning!! I have never seen an automatic car bunny hop before, especially not when changing down a gear (i.e. higher engine RPM). Makes you wonder. All that power under the hood (24 valve V6) and it can't even change down gears properly. Ford really hit a home run here.
So I was lucky to get onto the freeway in one piece and still had the door open warning light on, so as I'm heading down the freeway I'm worried the boot is going to fly open and spew all my luggage over the I80! Took the very next off ramp and checked, and you know what, the boot wasn't even unlocked, let alone ajar.
Continued on to Emigrant Gap and found the spot I was looking for, after a bit of driving. Parked up, geared up, and started hiking up the hill. Wasn't deep enough here to require snow shoes so I hiked up there in my boots.
Got to the top and found an interesting "tree":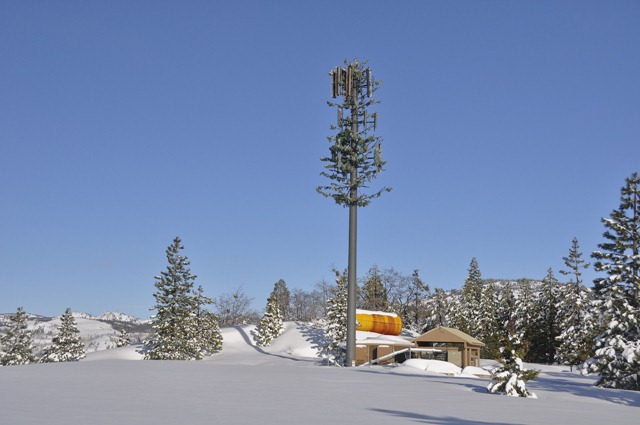 So it's not just Fendalton that disguises their cellphone towers it would seem.
And the view I was after? Well that would be this: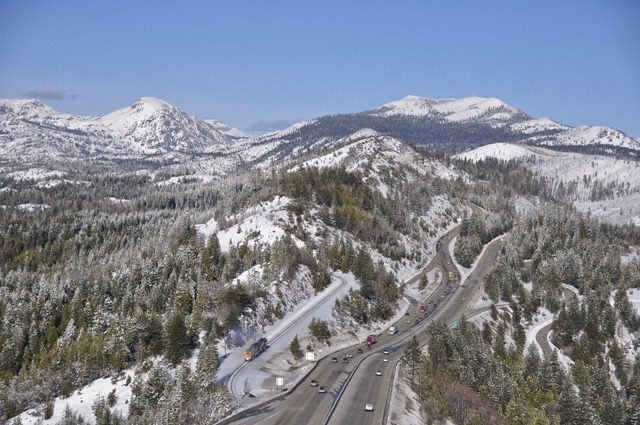 I80 to the right, with rest area and a couple of off & on ramps visible, and the railway center. Was certainly an amazing view, could see a long way around on either side. And of course the flanger and a couple of GP38-2s are on the track.
I settled in and made myself comfortable with the help of a very bent over tree that made a nice seat. To keep warm I made a few tracks to good photo spots, as the snow was very soft here and I did get stuck up to my waist at one point!
Half an hour later an intermodal train came through…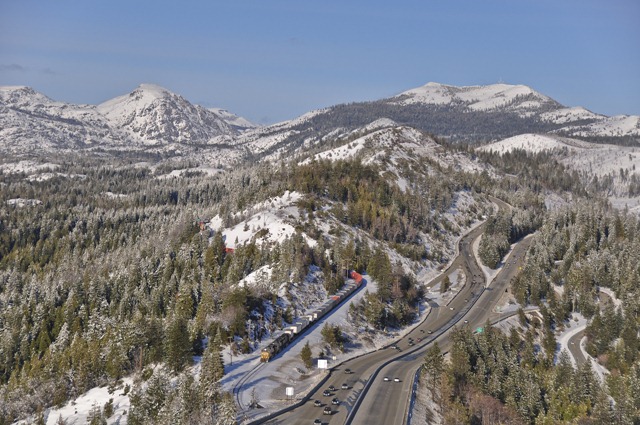 An hour later the next train came by, the sun quite low in the sky now.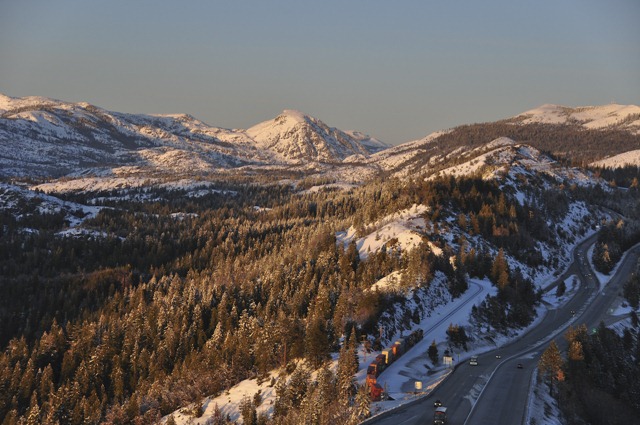 This was a monster of a train, 2x2x1 configuration — mid train helpers and all! Sun had almost set by the time the end of the train crawled by.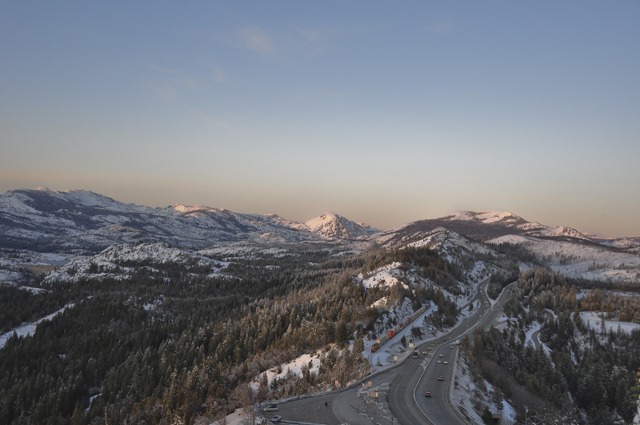 With that done I turned around and hot footed it back down the hill.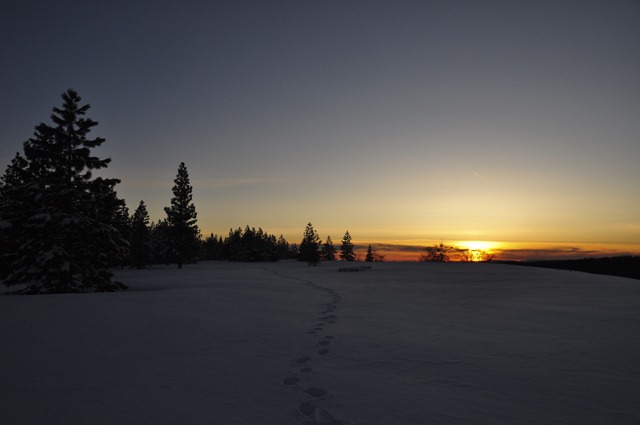 Not the angle the icicles are on!
Headed back down the hill and back to the motel. Got a new room without the late-night-and-early-morning TV watcher (televangelism at that!) and pot smoker next door. Started packing, but was too tired so opted to do it in the morning.
Right must run, plane is about to start boarding!