Day 3 - Lake Tahoe, CA to Wells, NV
Ahh Nevada, a state I can understand. California is all fast and noisy, but Nevada… such vast open spaces, and such amazing scenery.
Lazy start today, packed the SUV and was off on my way. Wonderfully clear and sunny, the internet reckoned it was -8°C outside but the car said 0°C which seemed closer to the truth; regardless it was slightly chilly but hardly unpleasant. Drove over the top and was soon on I80. Approaching the Nevada border I saw flumes alongside the freeway, from what I've found these days from the mining days.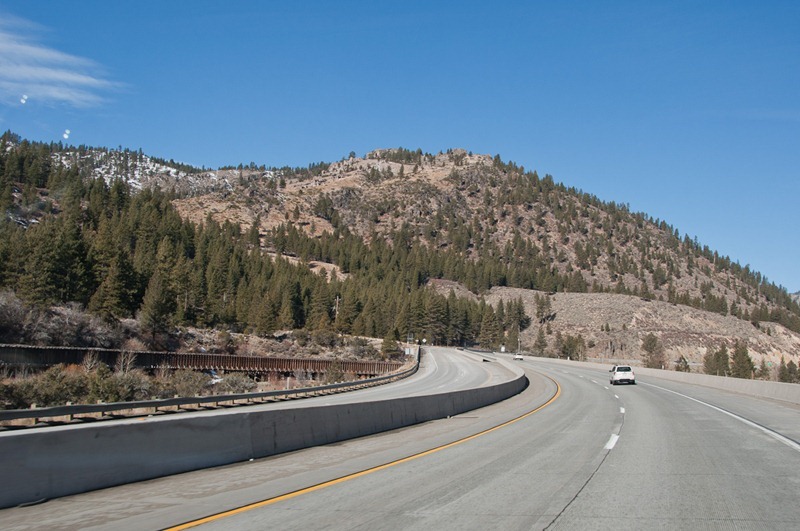 Past Reno I thought I saw a nuclear reactor, but turns out it's a combined cycle plant and a gas power station. I stopped in at Reno to visit Wal-Mart and got thoroughly lost, but eventually emerged with clothes, pyjamas, hundreds & thousands coated chocolate donut holes, contact lens cleaner, and some dried cranberries! Just what a boy needs on the road.
Soon I was out of the hubub of the big city and out on the open road. Waited till I had a bit of space and figured out the cruise control system; click on/off to enable, set to engage, cancel or the brake to disengage, and +/- to tweak the cruise speed. Simple! And when you're faced with 6+ hours of this… it makes sense.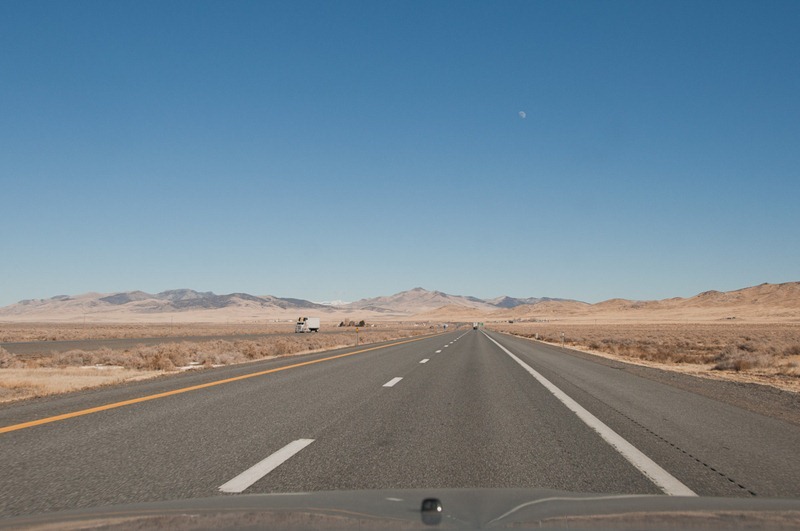 I passed the string of Space Invaders power pilons that gets me every time and managed to get a clear enough shot of them as I sped past.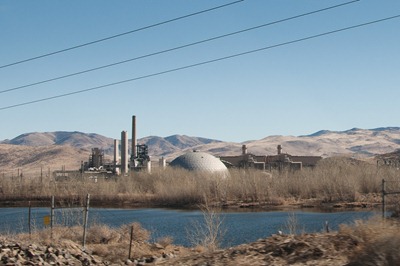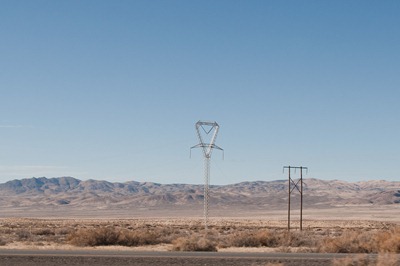 Nuclear? No just the Tracy Pond power station / Space Invader pylons
Four hours after I started I passed through Winnemucca and heard the local track inspector being denied track & time because "I've got a west bound I need to get through in about half an hour". I roared on and knew that in about 15 minutes I would be meeting a train. Sure enough I drove past it and did a U turn at the next off ramp, luckily only a few miles away. I sped back, over took him, found an off ramp, and set up on the shoulder of the road near Golconda.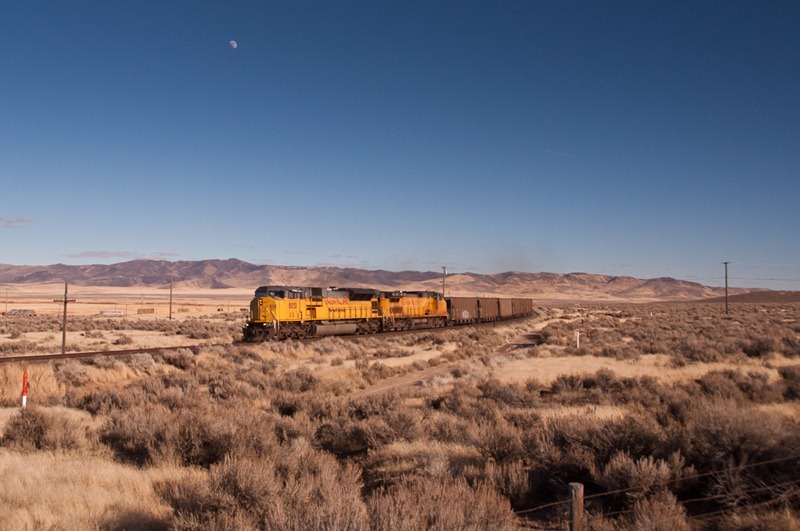 What a treat! An SD90MAC and a GEVO of some sort. The 90MACs were supposed to be the "next big thing" and while they're certainly massive, they were also a huge failure, with most railroads downgrading the innards due to terrible reliability issues.
I did some measurements on Google Earth and if you imagine the train and I are standing in Belfast, and the hills are the Port Hills, then that little patch of desert behind the train is enough to fit in Christchurch. The scale of the scenery out here is awesome.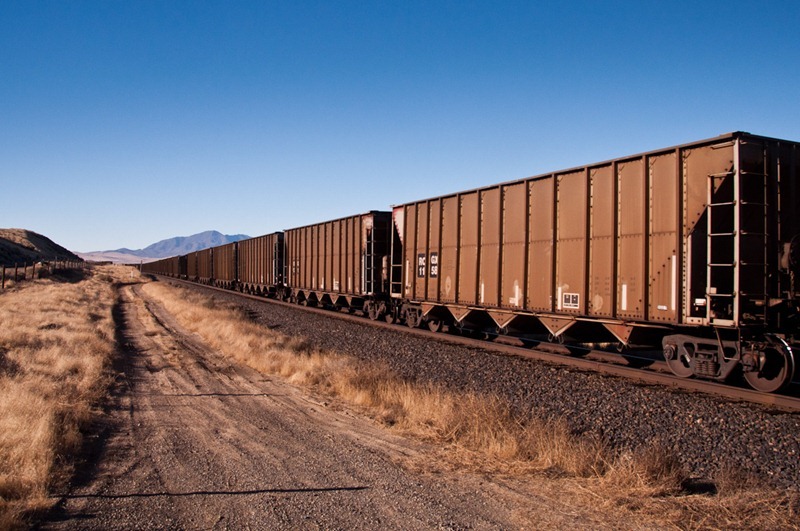 The DPU on the rear was doing it's part as it screamed past.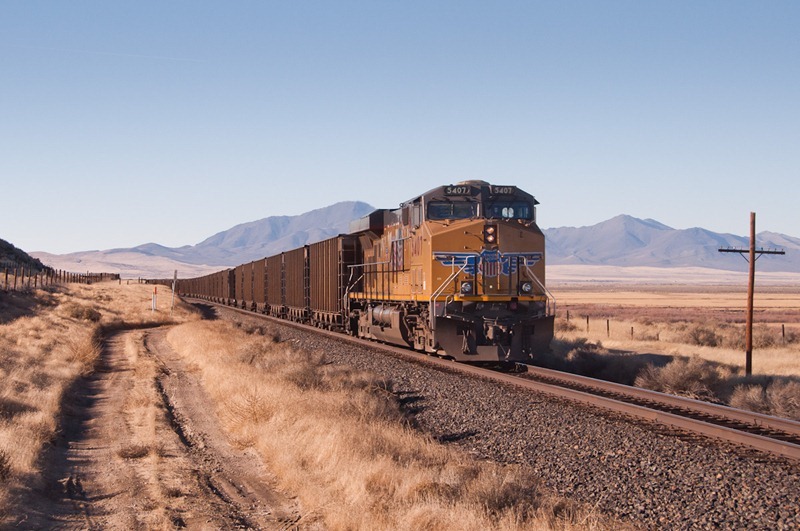 It is just amazing out here in the desert. A nice balmy 2°C for most of the day, but with brilliant strong light that warmed you up in an instant, and not a cloud to be seen.
I hit the road again and was soon speeding along more massive scenery.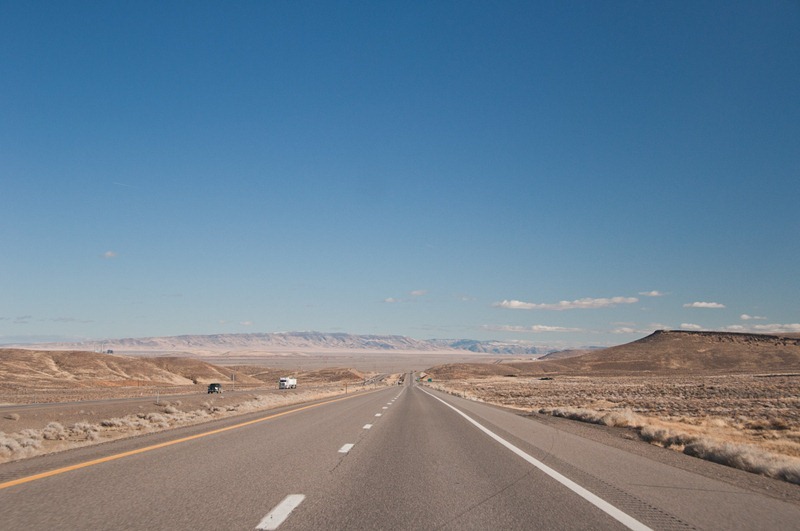 The mountains above are 65km away; compare that with the Port Hills to Sourthern Alps which is 75km. There were many scenes like this today. In all that distance there was just one bend in the road, a tiny town, and a sweeping curve to skirt around the mountain range.
An hour later I saw a headlight in the distance, which soon enough turned out to be a train. Drat, another westbound; all I wanted was an eastbound to chase! As I passed it though I noticed that a) it wasn't moving fast, and b) it was a pair of crisp clean snoot nosed SD40-2s!
Leaving behing the MRL, I hardly ever get to see SD40s out in the wild, let alone snoot nosed ones! (Snoot means big long noses which were extra stretch to fit in remote control gear.) Luckily there was an off ramp right next to me so a minute later I was jogging down a dirt track to get among the sagebrush and start hunting my quarry.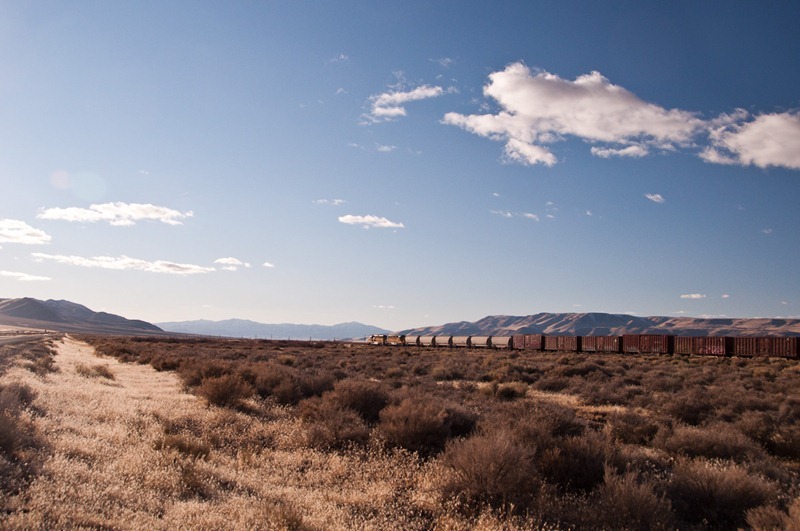 And what a catch it was!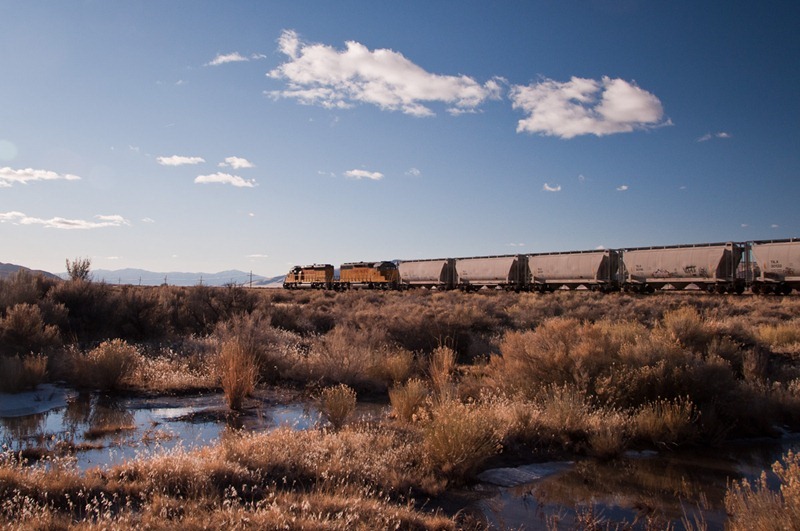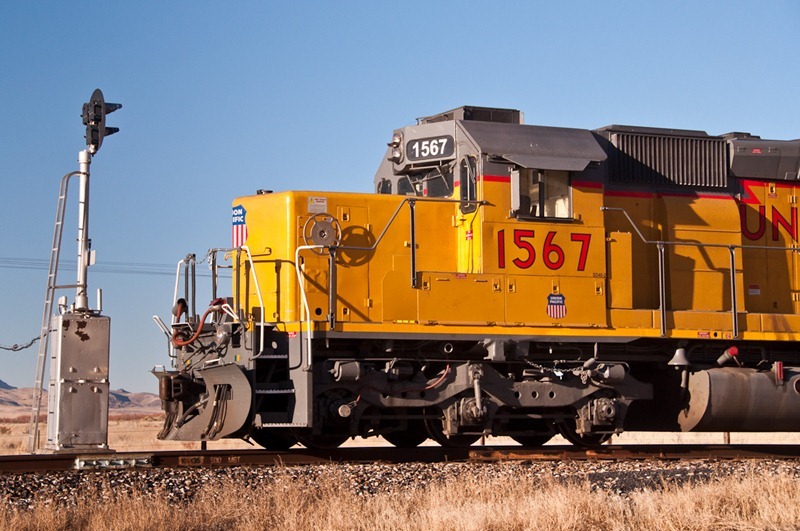 UP 1567 is a recently modernised SD40-2, now classed SD40N. Work includes air conditioner, new doors and seals, new pipe work, new generator, traction motors, overhauled bogies, and new prime mover; almost a whole new loco! UP 1567 was built in 1975 though so it's good to see her still getting plenty of use.
I watched as she notched up and slowly switched the industries here in the middle of nowhere.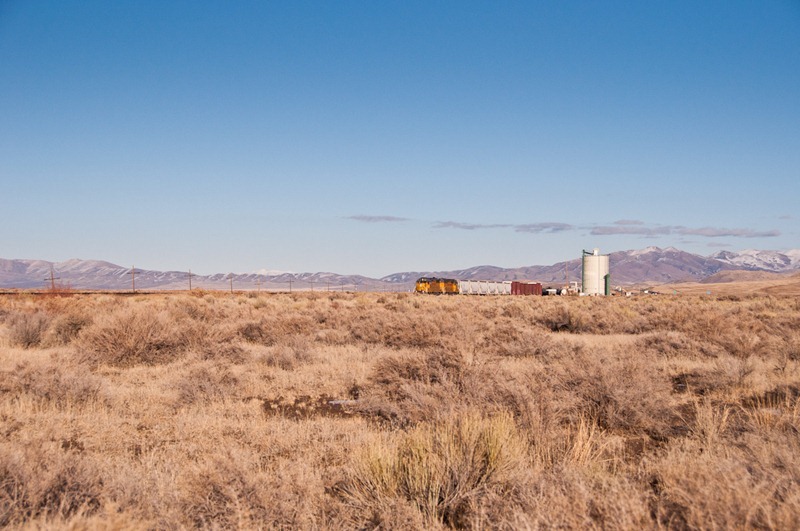 I didn't really want to say goodbye, but I still had quite a few miles to cover.
I hit the road again and picked up some chatter about an eastbound train about to depart from, err, Elko was it? I picked it up on the outskirts of town and followed it for a little bit but it soon got too dark. I did manage one shot of it taking the wrong track (from my point of view) though. You can see the complete lack of snow, although this is fairly normal for around here in my experiences.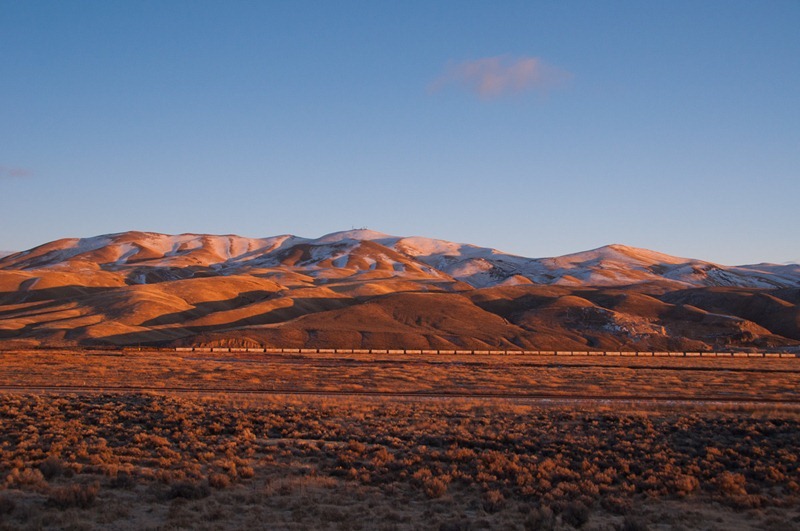 I drove on and caught the sunset a few times. At one point it was lighting up a distant mountain range in a wonderful, soft pink shade, almost impossible to capture on camera.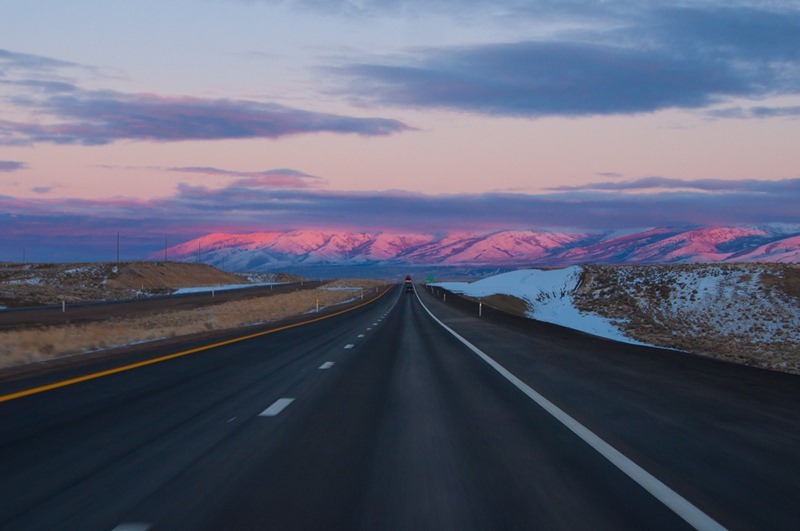 I pulled off to get a better shot and it had gone! I got this though… yes it's as cold as it looks!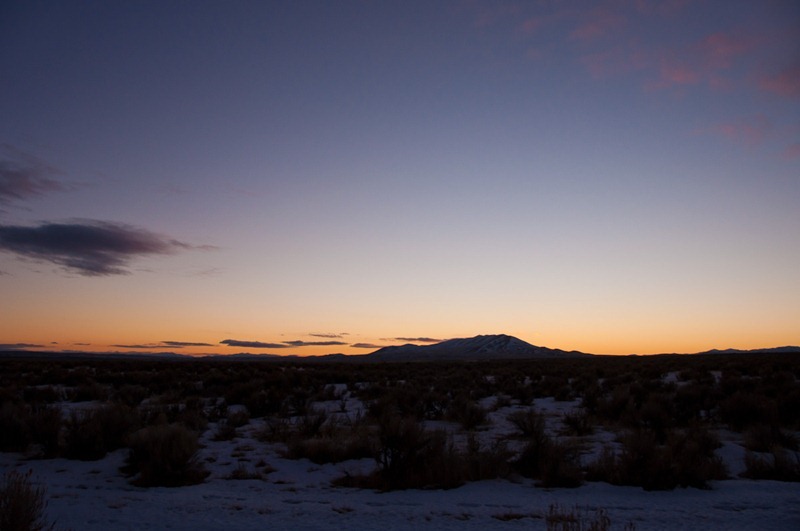 I pulled into Wells and looked for the motel next to the delicious little church. Sadly his "RECENTLY UPGRADED WIFI" was no-go so I drove down the road matching wifi-names to motel names and chose the Shell Crest Inn (who choses these names?!?). As I was unpacking the car my eastbounder roared through just behind the motel, and ever since there has been a constant stream of easters and westers. There is a grade crossing nearby here, so I get a little warning and if I jump up on the spare bed I can see them through the top of the window :-) Yes, I'm still a little kid!
Half rack of ribs for dinner at the 4 Way Casino where I got to listen to slot machines and country music (oh how Nevadan) and then back at the motel I got visited by the motel cat, who came and said hello for a bit. Tomorrow I am going to make the trek into Montana, which means a new timezone so I have to wake up even earlier!