Day 24: Evanston to Wells
Woke up way too early today to a weird sound; sounded a bit like coke cans being kicked around the yard. Dragged myself out of bed to have a look but couldn't see anything, so went back to bed. Clattering continued sporadically for the next few hours. It was only when I properly awoke later I realised it was the heaters creaking each time the thermostat clicked on. Sigh!
Got up and was on the road nice and promptly. My breakfast apple had been sitting in the car all night and was extremely cold; so much so it gave me tooth ache when I bit into it! Yup it gets pretty cold out here in Wyoming.
Drove out to a railway crossing that had looked amazing the night before with the setting sun catching the golden grass; but this morning it looked pretty ordinary. However I caught a manifest heading away, and before it'd finished crossing a nineteen loco lash up went across the other way. Nineteen locos! Obviously a repositioning move, but very impressive nonetheless.
I left Evanston and Wyoming and followed the road through Echo Canyon. Saw some hirail trucks doing work on the tracks so figured I probably wouldn't be seeing any trains for a while, and I was right. Got all the way to Ogden without seeing a single train.
Checked in on an old friend at the Union Station in Ogden, was good to see a familiar face again: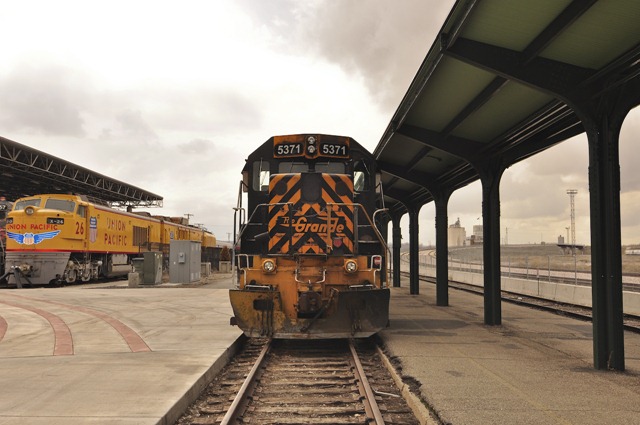 Denver & Rio Grande 5371; the last surviving tunnel motor still in Rio Grande paint.
Had a peer in the cab; it looked pretty primitive after the AC4400 a couple of days ago! No flat panels, no DPU gear, no refrigerator, etc. But the paint scheme is clearly superior :-)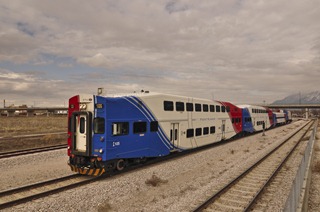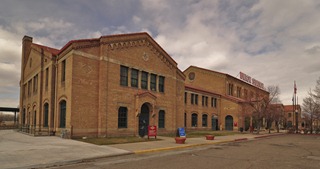 Utah Transit train / Union Station with some interesting perspective distortion going on.
Stopped in at the train shop in the station but they've gone 100% HO scale with no N gauge at all. Never mind, had a suspicion they'd done that. Then it was back on the I15 and heading north as I prepared to take the scenic route around the top of the Great Salt Lake.
Long long long drive. An hour or so later I was in Snowville, UT, where I was pleased to find some snow. I'd feel a bit short changed if I went to Snowville and found anything else. The diner here really caught my eye: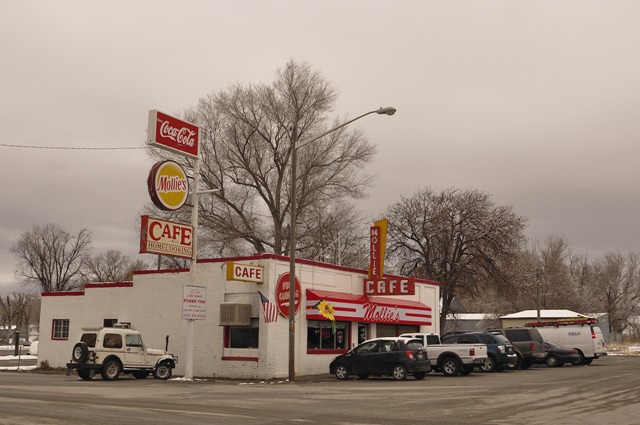 Mollie's Diner, Snowville, UT.
Onwards I continued, past the "Next services: 102 miles" sign. 100 miles with no gas station!? This isn't like the America I know. I was now entering some pretty remote country.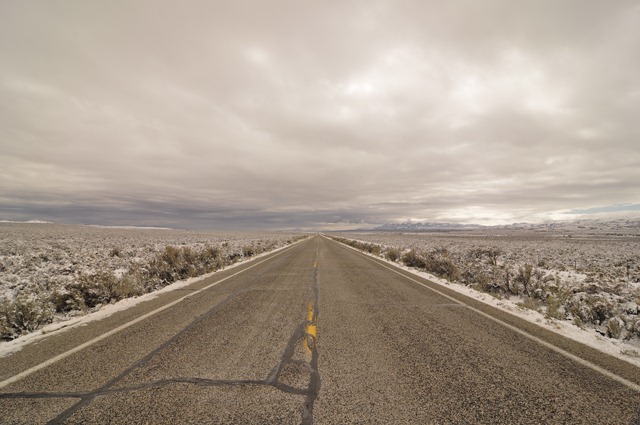 There were patches out here where there'd obviously been some heavy snow recently, with all the plants still covered in snow.
Continued on and suddenly there was no snow. Odd. Was starting to get pretty cloudy.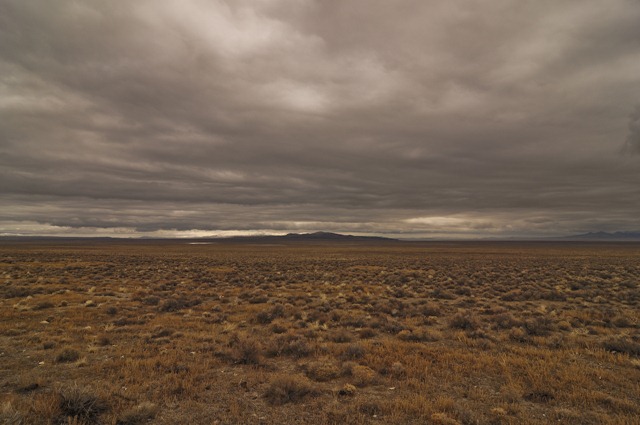 By now I wasn't even sure what state I was in. The roads were straight enough for Nevada, but I was still getting Salt Lake radio stations. I presumed I was probably still in Utah. As quickly as the snow had gone, it came back again, as did some sunshine.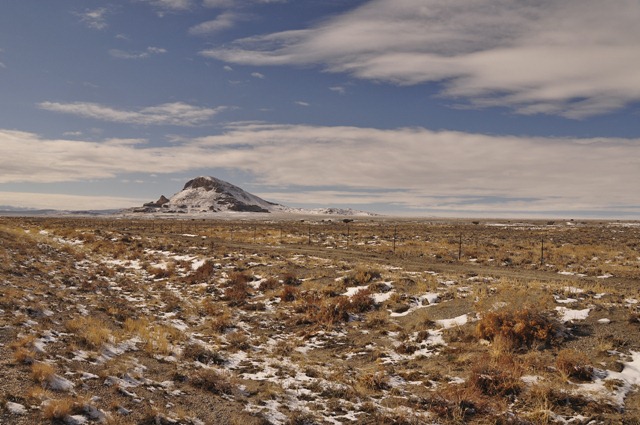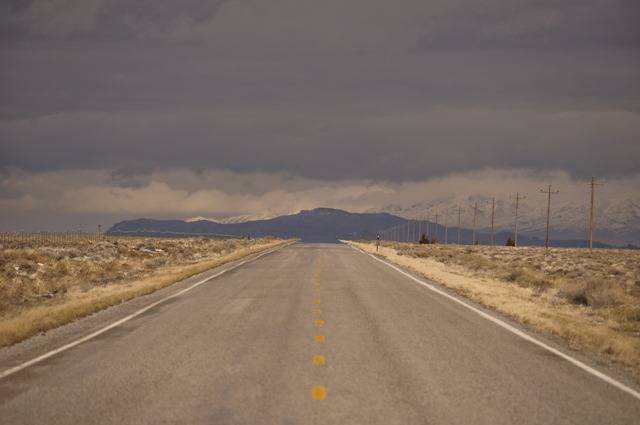 Where am I…? I haven't even passed a farm in yonks.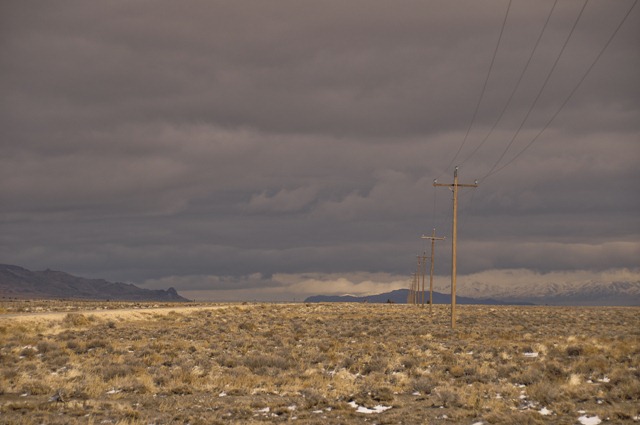 Onwards I went. The skies continued to clear up and the snow thickened on the ground. Something caught my eye… snow was stuck to the lampposts, and ice was sparkling on the lines.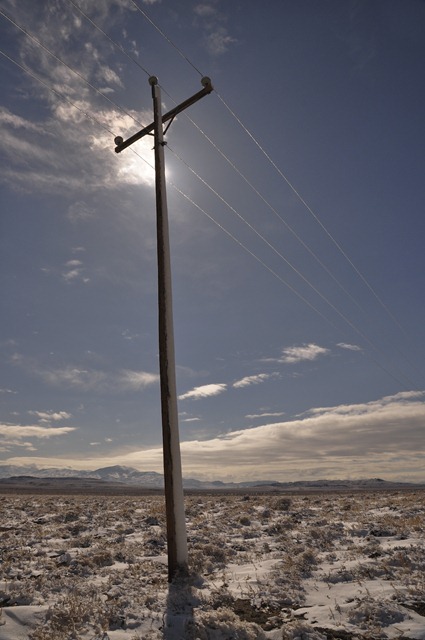 And it was damn cold! There was a ferocious wind blowing that easily put windchill before freezing point. I quickly snapped some pics and was back in the car. Continued on and saw a bend in the road, so knew I must still be in Utah.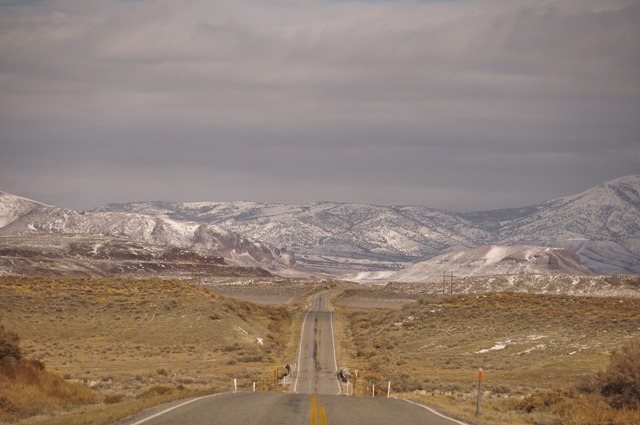 Crossed into Nevada at some point with little fanfare, other than the speed limit increasing by 5mph. Continued on and came to a tiny town with a gas station. Looked at the tank and the fuel meter readout, and checked with the GPS, and decided I should get some fuel here rather than arrive in Wells in fumes. Pulled into the tiny store and pumped $25 of very expensive petrol; about 50% more expensive than city gas. Guess that's what you get for buying petrol in a ghost town.
Continued on and joined up with a very quiet I80. Drove up a bit of a twisty valley.
Shortly afterwards I arrived in Wells, Nevada. 300 miles, about 6 hours of driving, and 3 different states. Not a bad effort.
Wells was looking a little snowy; turns out they'd had thirteen inches of the white stuff overnight! What a wonderful welcome back present Nevada has given me. Got a motel for $37/night, seems pretty decent. They have wireless and their forecourt has been plowed. Drove through town and found a good lookout point where I could see any trains coming or going. Suited up with thermals, insulated boots, ski pants and jacket and suddenly there was a blip on the scanner announcing an approaching train.
Jumped out and caught it, then scrambled around and caught it from some different poses. In my haste I ran straight into a massive drift and did a face plant right into the snow! Lucky it was so soft and powdery.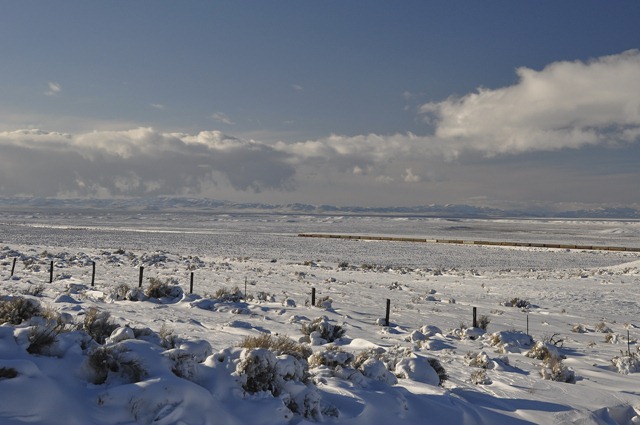 I'd forgotten my gloves and with the wind howling across the plains here my fingers were now very sore and freezing cold. Went back to the car and gently warmed them back up, then slapped on some nice thick woollen gloves. Also added a neck warmer, and now I was wonderfully cosy. Granted there was only my nose and eyes exposed :-)
Jumped back through the snow to catch the next train. The snow ranged from a mere dusting on exposed faces, to over 2 feet deep in sheltered areas. In places it was mid-thigh, which slowed me down a bit. Wasn't quite enough to warrant snow shoes though.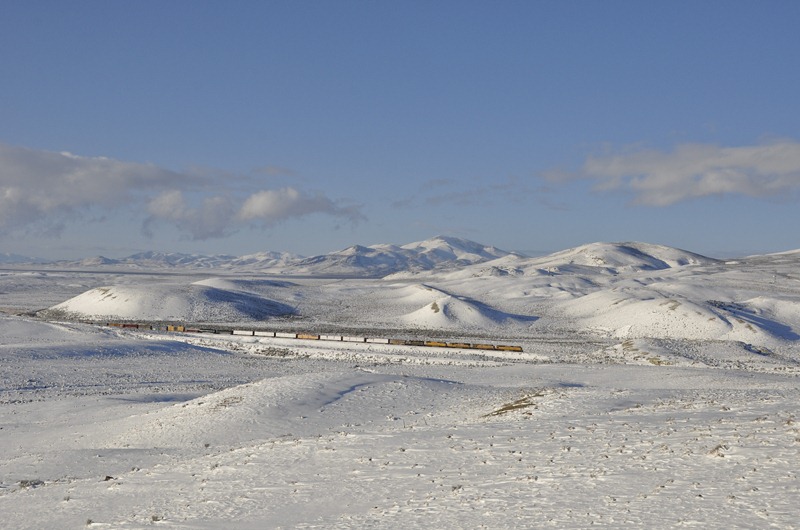 UP manifest with SD90/43 on the front, and an SP geep in the consist.
The train was duly caught and I scaled a small hill to watch it continue on through town…
Soon another train was on its way, this time a BNSF manifest.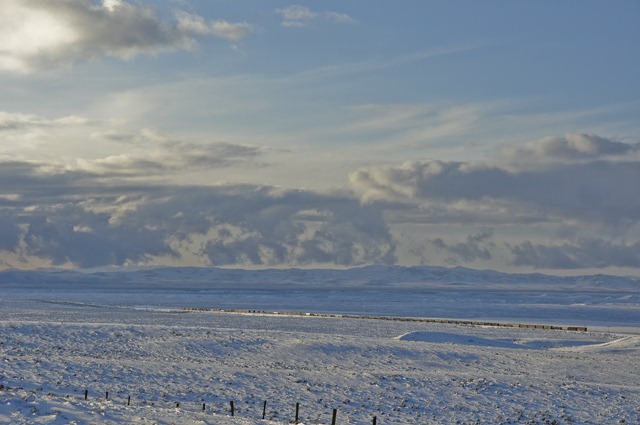 Sun was starting to set and my oh my, what a sight!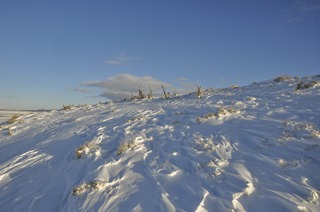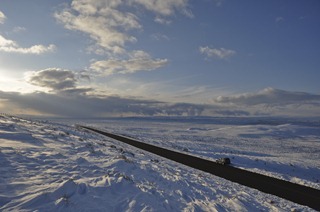 Wind sculpted snow / It's pretty open out here…
Soon another train was approaching, this time a UP coal train. After the complete drought of trains at Echo this was a welcome change.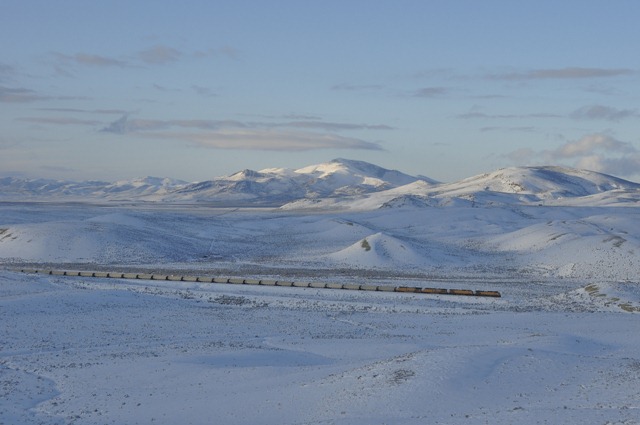 "Only" 6 locos on this train in a 4x2 configuration (4 in front, 2 on back). I watched it cruise through Wells as the final rays of sunlight hit the township.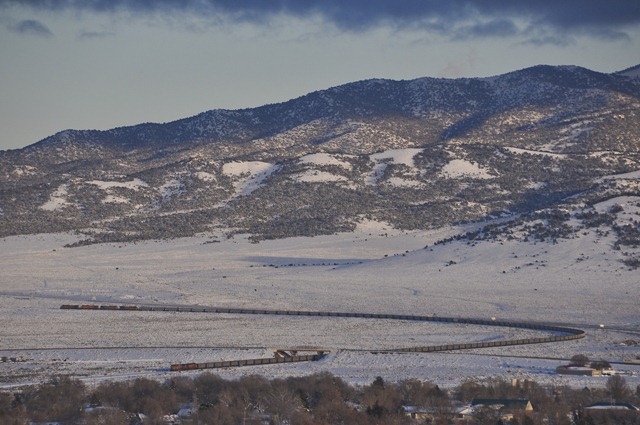 The sunset was simply spectacular.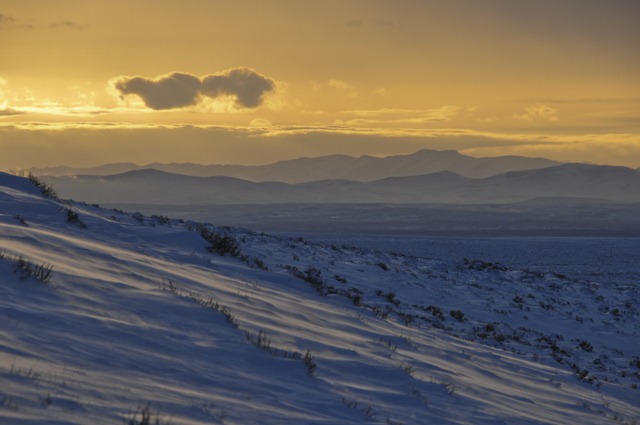 Surely the birds must get cold? There is no way I'd want to be up there wearing nothing but feathers! The wind was very brisk and was spraying up a fine mist of snow flakes. It looked like the snow was steaming, but the car said it was 26°F (-3°C) and that was without windchill, so I don't think it was steam :-) It did however look stunning under the low sun: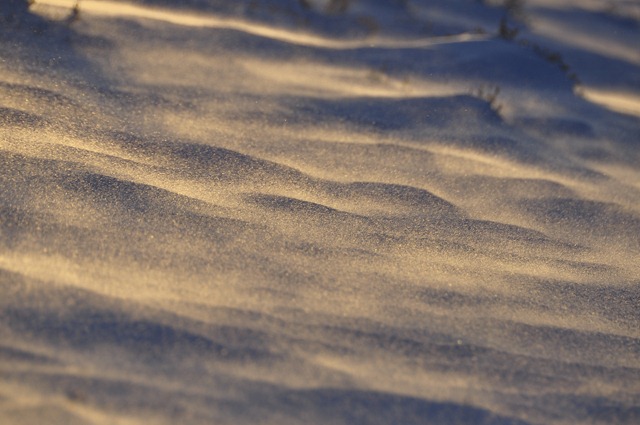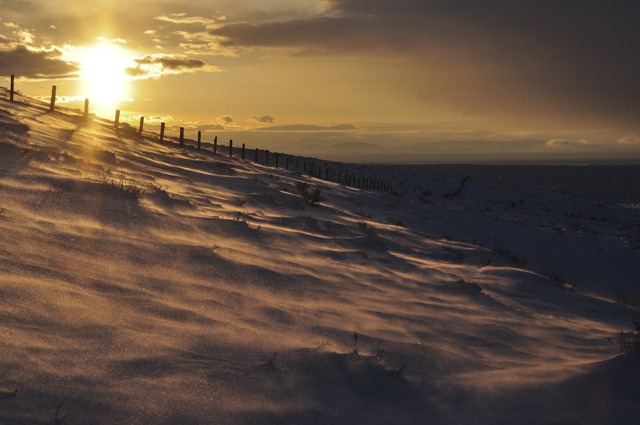 With the sun set I hopped in the car and went back to the motel. From the window I spied a headlight and leapt out to catch another UP manifest. Not a bad view for a motel car park huh?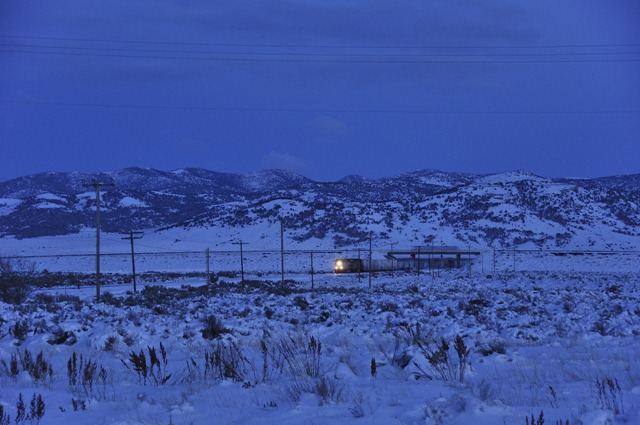 Tidied up, removed the caked on snow, and headed off for dinner. Went to the local casino's restaurant, which was full of truckers sitting alone munching away. Had a "basket" which consisted of french fries and other various fried things; healthy I know! For $10 it more than filled me up.
Forecast is for more rain and/or snow, and maybe some cloud. I'm hoping for sun because snow this amazing shouldn't be wasted. I've still got plenty of time up my sleeves, so I can easily afford an extra day here. I'm amazed that I turned up just in time to catch this phenomenal dump of snow. Can you imagine what 13 inches would do to Christchurch? We'd be immobilised for weeks! Here everything was plowed and functional within the same day. Amazing.
The transformation the snow has made here is so dramatic that I didn't even recognise Wells when I first arrived; and it's only been 2 weeks since I was last here. Yet it looked completely different, and in my book a whole lot better. Nevada and Utah have sure taken the crown for winter scenery this year.