Day 2: Donner Pass
Awoke bright and early to the mournful cry of a train horn, funny how things like that can arouse me so quickly! Decided that 6:45am (3:45am NZ time) was a little early to be getting up, so went back to sleep :) Woke up much later on, seems that I was rather exhausted, I guess plane-sleep doesn't count for much. Got ready and hopped in the car and headed up the hill. First stop was Alta…
Alta is little more than a few buildings, but it is lovely and peaceful. The whole place radiates that sleepy Sunday morning feel and the pines dwarf everything.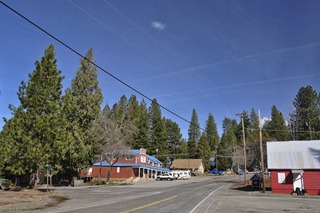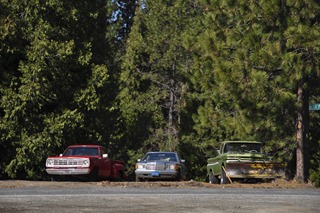 "Main" street of Alta / Cars sunning themselves, check out the snow plough on that thing!
Around the road a bit there is another wow place, American Gorge. The view from here is amazing, gazing out over a massive valley with pines everywhere (no photos, sun was all wrong). I found a cowboy hat spiked on a branch, which I thought a little odd. Tried it on… put it back. Found a railroad spike in the grass, pocketed that, it will double the size of my Great Railroad Spikes of the 21st Century collection :-)
While wondering around and soaking up the peace and quiet (the IRD is now but a distant memory) I thought I heard the soothing sound of an Amtrak horn, and a few minutes later the rails started hissing and around the corner came the (modern) California Zephyr.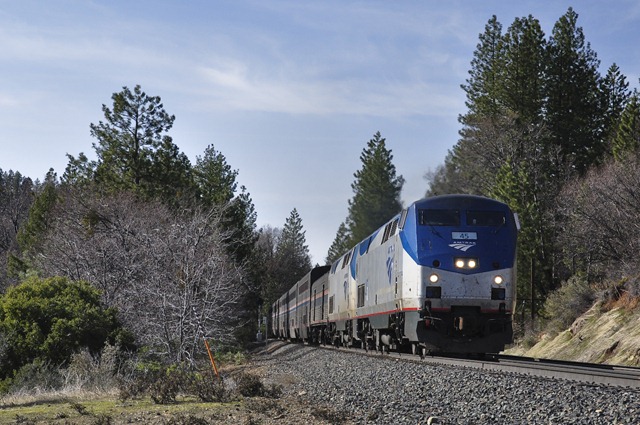 Knowing that I could beat it to the next spot I dashed up the hill, jumped in the car and cruised back to the I80.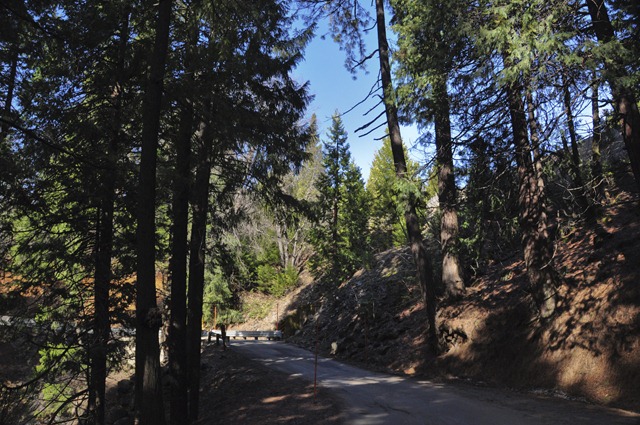 American oddity: a one way bridge. They're so rare they don't even have give way signs like ours do. Also: the trees here towered over everything.
Thought I could catch it around some snow sheds, but was too late and could see it still ahead of me (and was later to find that the road was buried under 5 feet of snow!) so continued on to Yuba Pass.
Yuba Pass… another wow place! 500m higher up and there was an abundance of snow here, so much so that I was up to my waist a few times. Amazing place this Donner Pass, 15 minutes driving from no snow to lots of snow.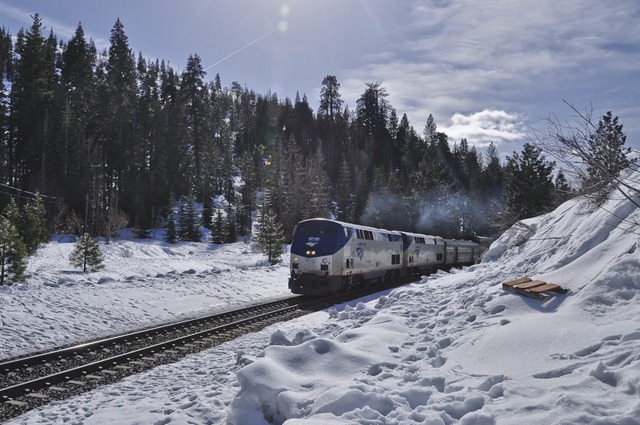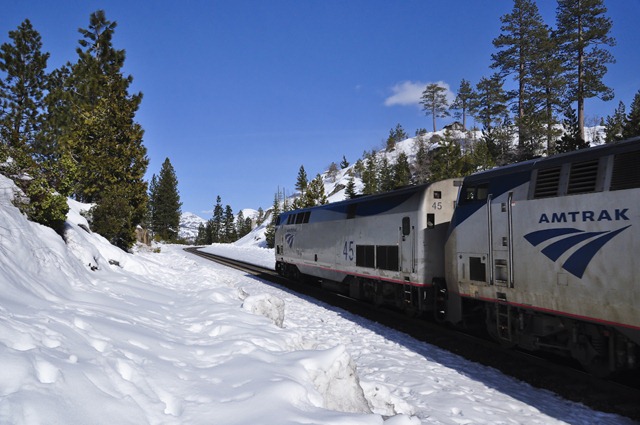 Lots of little kids here with sleds and mittens, which explain the thousands of little footprints. Hopefully tomorrow I can get some video here, the horn play is spectacular as they try and clear everyone off the track!
Pressed on some more and came to Soda Springs, which is where all the ski fields start (although I noticed a Ski Park on the way up, which is like a regular city park, just with 3 feet of snow!). The number of cars here was phenomenal, but found a parking spot. Had a little walk around, decided there was nothing much of note photography wise, walked back to the car and promptly missed a great photo op of the Amtrak! Had to settle for this from the parking lot instead…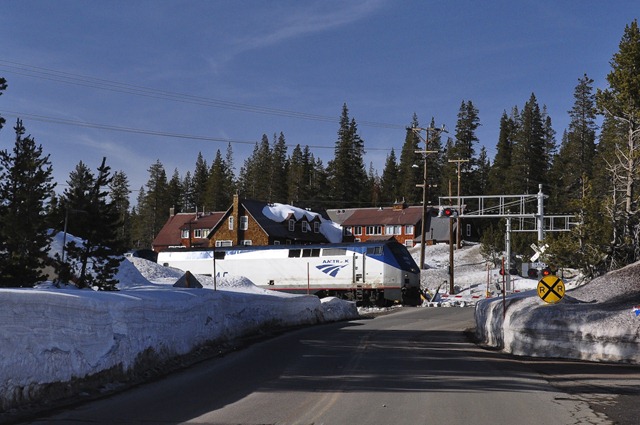 Incidentally, notice why parking spaces are at a premium here? That snow is shoulder height on me!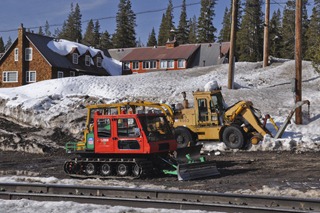 The Blue Beast / What Union Pacific use for transport up here — note the tracks on that thing!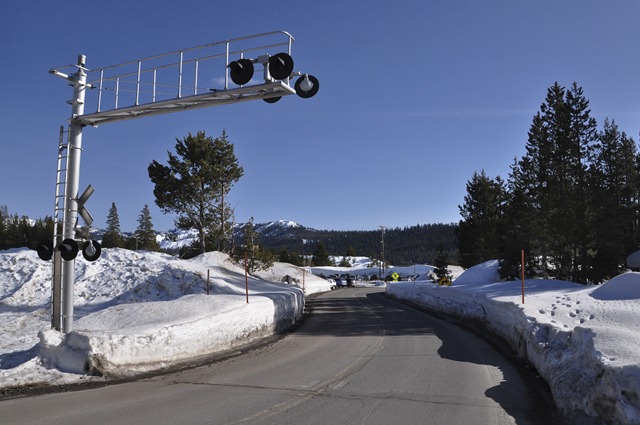 Looking down the road, snow snow everywhere.
I found the Donner Pass Road and went down that and, well if I thought Soda Springs was busy, that was nothing! It was SUV-central here. Couldn't find the road I was after so parked with everyone else and walked to tracks, a good 30 minutes or so down a snowy road. Apparently any old ski-bunny SUV can do this road, I was too chicken though. I didn't want to be "that person" who gets their brand new 4wd stuck in 2 inches of snow!
Down the road a bit I found a lodge and some kids playing, the little girl explained how she'd found a racoon that had run away, but she hadn't touched it in case it had rabies, and had I passed it on the way? Meanwhile their mum just laughed and gave me directions to the railway tracks, although was a little confused I didn't have my cross country skis with me. I politely declined a snow ball fight with the little girl. "But I'm a really bad aim!" so I had to explain I didn't have my ski jacket on and didn't want snow down my top :-) She was heart broken of course, her mum seemed glad she wouldn't be subject to "mis"aimed snowballs.
So I trooped on through the snow and sure enough after a couple of minutes on my "cross country skis" I came to the tracks.. and a snowshed! Eat your heart out New Zealand railfans, here is something you won't find anywhere in NZ!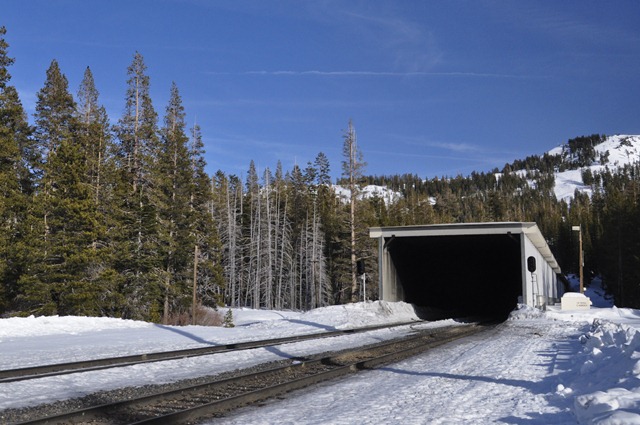 I was pretty blooming excited about this, which made me all the more bitter I missed the perfect shot of a train emerging into the snow & sunlight, because I was too busy walking back to the car. If only I'd brought my skis :) I'll say this for NZ trains; at least it's easy to know where they are, since they announce their progress fairly frequently. Over here on Donner Pass you get one call at the start, and one at the end. Even the signals don't help; they black out to save power until the very last minute.
Maybe tomorrow I'll make myself comfy and do a good old fashioned stake out.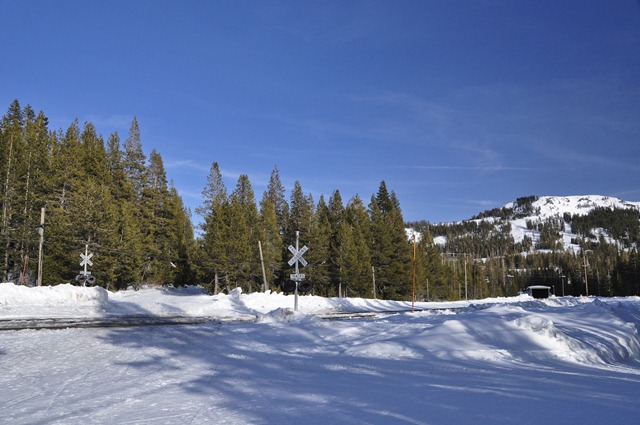 Another shot. Notice how the snow is almost up to the lights at the crossing?
While pondering things a couple of girls came past on their skis looking right at home with their polar fleeces and iPods. Must be tough being a ski-bunny!
I trekked back up the road, missed the shot I mentioned, then joined everyone else heading home. Everyone else . The I80 was almost at a standstill, only once did I get to 65mph, the rest of the time I was lucky to get up to 20. I had been warned about Presidents Day traffic. What I didn't expect was the complete and utter lack of road rage. Everyone here was happy plodding along for mile after mile after mile. I won't even mention what it would be like in NZ!!!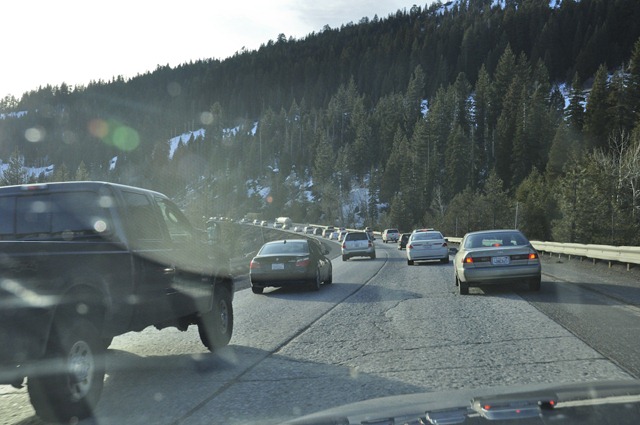 I escaped at Yuba Gap again to test out my snow shoes. Just as I was putting them on Highway Patrol pulled over right next to me… I was pretty sure it was ok to snow show around here, but you never know. "Youok? Just snow shoeing?" "Yep", "Ok, just checking yer hadn't broken down", "No no, all good" and then he was off again. Nice guy. So I gave my brand spanking new snow shows a bit of a test drive. Was impressed by their ability to climb up 45° slopes, and how they turned into make shift skies on > 45° downhill slopes. While I didn't quite feel like I was a ballerina dancing across the top of the snow (feels more like driving a tank), it certainly beat feeling like an ice breaker plowing through waist high snow!!
While peering down a slope I heard the rails start hissing… Yus! I had long since given up on the scanner (Yerrr there is a train somewhere between California and Nevada) but I still seemed to be having reasonable luck train wise, and Mondays are supposed to be pretty light on Donner Pass.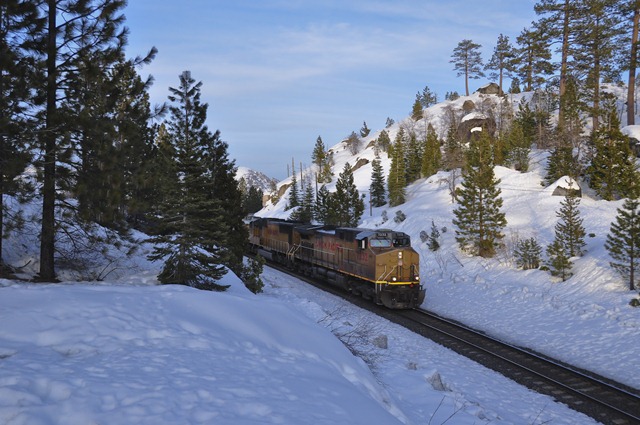 So I zipped into position and caught a friendly wave as a double stacker cruised downgrade in the last rays of sun. This also would be a good spot to stake out, and I found a tunnel further round too.
Meanwhile I was treated to a lovely winter sunset.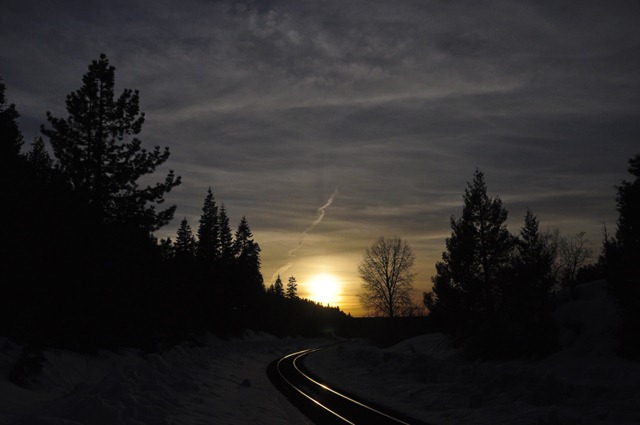 I said goodbye to Yuba Pass and rejoined the now much less busy I80 for a quick trip downhill.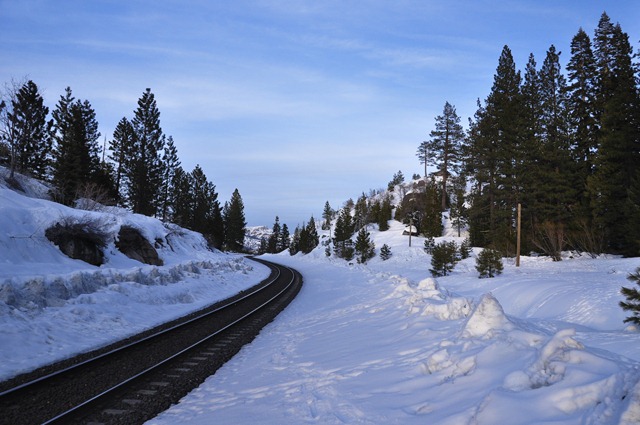 Saw a News 10 truck at Vista Point on the way downhill, not sure what they were reporting on. "Yes we're here on Donner Pass and there is a lot of traffic on the I80. I'll tell you what Bob: we were not expecting people to spend the long weekend skiing."
Plan for tomorrow is to get back to Donner Pass again, this time with some sunscreen and catch some more trains. After that… I'm really not sure. Truckee would be the logical place to stop but can't see any cheap accommodation there, so I may have to stay in Reno (shudder). Tonight's job is to do my budget (done, I'm under budget so far), and plan the next 4 weeks. Montana has snow forecast for the next 10 days, while Flagstaff is due for some in a weeks time, and Helper is the same. Plenty of options…